Answer the same questions we will ask over the phone, at your convenience and without being placed on hold or going to voicemail!
Have a simple question? Ask at your convenience any time and we will respond as soon a possible!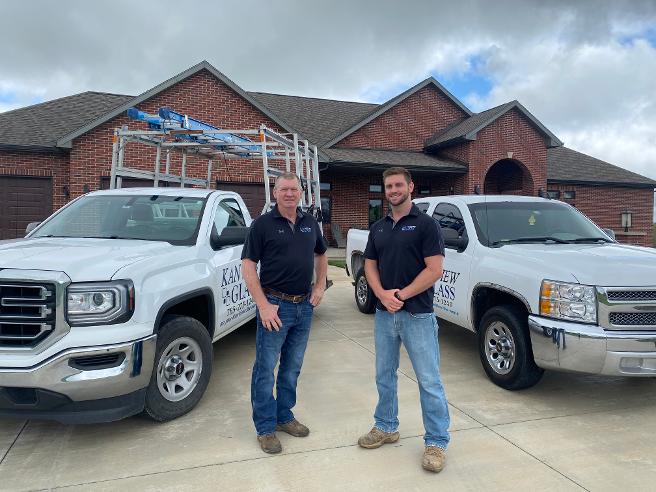 LOCAL, FAMILY, & VETERAN Owned & Operated
KanView Glass is a full-service glass company for both residential and commercial customers. Local, family, & veteran-owned and operated, KanView Glass serves Topeka, Lawrence, and surrounding areas. Jerry, with over 35 years of experience, teamed with his son Josh, with over 12 years of experience in the glass industry, to provide their customers with superior service and the highest quality glass products the industry has to offer. We want to help you enhance the beauty of your home or business. Call us or click the link above for a free estimate or to schedule your job.
What Our Customers are Saying...
"Thank you! Thank you! Thank you! You guys are life savers!" -- Deb, Topeka, KS
"This is the kind of business and the kind of people I want in Topeka. They just bought my business and my loyalty. I intend to spread the word about this business. --Kerry, Topeka, KS

"I'm so happy that I was referred to you guys." -- Ann, Topeka, KS
"I had KanView replace 3 very large trapezoid shaped windows with insulated glass high up on my house. Other companies did not want to tackle the project. Turns out not only was KanView very professional & service oriented, they were also very reasonable price-wise. I highly recommend KanView." --Terry, Topeka, KS
"Our door glass looks amazing. Thank you for getting it fixed so nice and quickly!" --Rachel, Topeka, KS

"Jerry & Josh are always professional, courteous, & prompt. We've been using them for all of our glass needs for over two years & are completely satisfied" --Susan, Topeka, KS

"Thank you Jerry and Josh of KanView Glass. They are very professional and affordable. I highly recommend them.." -- Roxanne, Topeka, KS
"They did a great job. If you want your work to be done by 'good people' give KanView Glass a call.." -- Allis, Topeka, KS
"They do great work; the best around." -- Jeff, Topeka, KS
"Jerry and Josh at KanView are indeed the best! They responded on an 'emergency' on the 4th of July when we could not close door that was stuck wide open and fixed it. They also installed 4 replacement windows. GREAT service and RESPONSIBLE!" --Dan, Topeka, KS

"You guys did great work, I will definitely be referring you." --Terry, Topeka, KS
We're always looking out for you! All Pages, Links and Forms used in our website have a secure SSL Certificate. This means any data being passed to us is encrypted, and your information is in safe hands. Please see our Privacy Policy below for more details.